November 24 - December 10 in
Salon Galić Gallery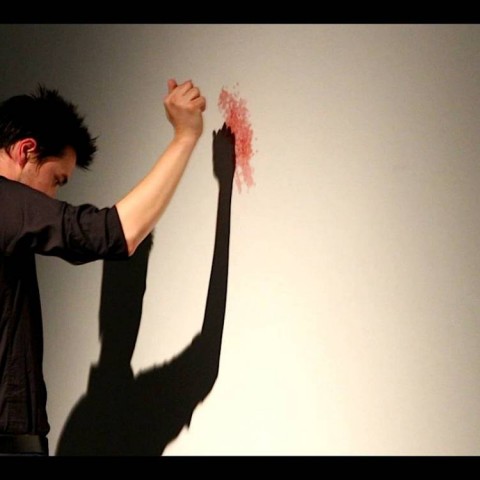 Using the selected works for the exhibition in Salon Galić gallery, Marko Marković is creating an ambient installation with sound, moving image, and space.  Confronting the performance documentation with audio sound, the artist opens up a parallel and generates a new atmosphere. The video documentation shows a performance in which Marković knocks on the wall, breaking the joints on his fingers. The sound of knocking creates a certain rhythm that flows through the gallery space. On the other hand, we can observe the audio work- a documentation recording of a tiger's roar – a beast trapped in a cage, deprived of freedom. Over time, Marković tries to communicate with Dimitrij the tiger. For that period of time, they are together in the cage and their voices overlap with one another- human and animal.
A man's freedom consists of following the laws of nature, since he himself acknowledged them as such, and not because they were implied by some other will – human or godly, collective or individual.
Let's take symbiosis as a manner of natural behavior, two individual species benefiting from one another, helping each other. How can we perceive naturalism, human-nature relations, and human-inhuman relations?
With his concept of "perspectivism", Eduardo Viveros de Castro marks the ideas and praxes which are found in indigenous American peoples, and which can be analyzed as cosmology. Such cosmology imagines a universe inhabited by different types of subjective forces, human and inhuman, and they are all given the same generic type of a soul – the same fusion of cognitive and volitional abilities.
Possessing similar souls implies the possession of similar concepts which determine that all subjects see things in the same way. To be more specific, individuals of the same species see each other (and exclusively each other) the same way as they are seen by other people, that is – beings with human shape and habits, and they see their own bodily and behavioral aspects as a shape of human culture.
Passing from one subject to another, the "objective correlative" is changed, that marked subject of those concepts: while a jaguar sees "cassava beer" (human drink"), a human will see "blood".
As our modern multicultural ontology is based upon the symbiotic implication of natural unity and the plurality of cultures, the concept of indigenous peoples implies spiritual unity and physical differences – or, we can say, one "culture", but many "natures".
Each sort of a subject perceives itself and its world the same way we perceive ourselves and our world. "Culture" is what we see ourselves when we say "I".
Anti body,
Marko Marković
Marko Marković, an artist from a younger generation, soon after graduating in Painting at the Academy of Arts in Split (under Gorki Žuvela), found his expression within the boundaries of performance and performance forms, which include audience participation – such as happening, actions and public space interventions. Aside from creating art, Marković also organizes performances: he initiated DOPUST (Open Performance Days), which took place several times in Split, but also in New York. He is also a member of a performance/punk-electro-noise band Ilija I Zrno Žita. He spent his college days in New York, and currently he lives in Vienna.
One of Marković's earliest performances, "Eksponat", can now be seen as his programmatic work, and it first took place in Split in 2008. He exposed himself, but he also guarded himself as an exhibition object, ensuring himself a gallery keeper's salary. This situation enabled him to speak about the position of contemporary artists, metaphorically but also literally: an honestly serious socio-economic situation.
As it is seen in all his following performances, Marković recognizes the artist deed as a symbolic action and a tool for (among other purposes) highlighting injustices and cruelties of the contemporary society. This is clearly seen in his performance at the Split Riva, when he dispersed plastic bottles which were immediately taken by the local bottle-collectors.[1] Using the visibility of this phenomenon, he pointed to the dramatic poverty and economic inequality around us. This was further explored when Marković joined the disempowered workers of Dalmacijavino and Uzor[2], creating a performance during which the Uzor women made a custom fit suit for him. Dressed in this "uzorno odijelo" ("ideal suit", uzor=ideal), he became the vox populi – he materialized and shared the workers' message. He was awarded the Radoslav Putar award in 2011 for his performance.
Another line of his performances, with seemingly different themes, can be placed within the sphere of radical body art. He uses his body to express himself, but the main theme is, once again, the society, or the collective state with its negative and positive connotations. A cycle of performances "Iglanje" (wordplay: igranje=playing, igla=needle) is performed each year since 2008, following the socio-political context. In this cycle, Marković is naked and carries a symbol of a country/region, and he stands like a target before an audience, as the audience throws needles at him. He endures the pain passively and the audience is active; he managed to provoke the audience to hide in the safety of an empowered group, demonstrating the reckless aggression towards a weak individual. In his cycle of performances "Selfeater" (started in 2009), Marković makes the audience almost as active, but obviously responsible. The act is auto cannibalistic in a way, and the audience is passive as they watch him drink his own blood from his vein and through a straw – everyone is a participant, or equally guilty. In his 2009 edition of "Selfeater", Marković consumed a piece of his own flesh.
As Miško Šuvaković[3] defined and grouped body art praxes, they are actually a "form of acting and working with human body in the art of process. The body art is created when an artist uses his body or the body of another person as an object of art. Biologically, physiologically, psychologically, socially speaking – the human body becomes the tool, material and the carrier of operation and announcing the intentions and ideas of an artist. The body is the exclusive carrier of the occurrences. The artist doesn't use shows, but concrete physiologic, psychological and behavioral situations."
Šuvaković found two types of body art: the analytical body art and behavioral body art. If we seek analogies with Gina Pane or Guenter Brus (recognized '70s artists) who cut and damage their bodies or with Bob Flanagen who hurts himself through pain and auto castration performances, we can see Marković as a part of the expressionist body art movement. Still, the ritualized pain infliction in Flanagen is therapeutic, psychologically cleansing and taboo inducing, while Marković puts his focus on the social sphere. As it was the case with early Marina Abramović performances, Marković puts his body in a socio-political context. (His body art is thus far from Orlan and Stelarc, who make themselves cyborgs/chimeras and construct artificial identities.)
Marković defines his body art as a way of criticizing the society, metaphorically showing "the only way of rebellion that is left for us", or the "political protest which opposes the cynicism of people in power, who turn obedient, humble citizens into vampires with auto cannibalistic strategies of survival".
Marković shows his empathy for the economically abused and the disempowered through his series of works "American Spring", which was created during his two-year stay in New York. He attended, filmed and thoroughly documented the Occupy Wall Street demonstrations. In a guarded zone of Wall Street, he performed his "Zaoštravanje" ("Sharpening"). In this symbolic spot, in the middle of the financial quarter of New York, next to the stock market, Marković took two kitchen knives and sharpened them by swiftly brushing them against each other's blades. This was a demonstration of an everyday culinary action, but also a display of how weapons become an art tool (this is how he presented his action to the police). At the same time, this was an equally real and a symbolic gesture. He managed to materialize the concept of "sharpening" social relations and, as he stated, he "sent a clear message": a warning to financial magnates coming from the 99%.
Marković performed his "Beast" in the Wall Street: he entered the mass of people who visit the bronze sculpture of a bull – the symbol of financial power, aggression, optimism and prosperity – the contemporary golden calf. There, he polished the sculpture until it reached perfect brilliance, just as it is meant for an embodiment of a contemporary deity.
Another mighty beast, this time a living one, helped Marković to shape an audio piece for "Slika od zvuka" ("An Image from a Sound"). This beast's name is Dimitrij, he lives in the Split ZOO on Marjan hill, and he is in the prime of his life. He might be trapped but he is still untamed, and harmful. Marković wanted to hear his voice, and to communicate with him.
Evelina Turković
Selected Works
Video documentation of a performance
Natural Selection (2016) Linz, Austria
Audio installation
Dimitrij (2015) Split, Croatia
Artists: Marko Marković, Dimitrij the tiger
Sound: Tomislav Šamec
We thank Hrvoje Cokarić, Split Zoo and Ivan the groomer for cooperation.
[1] In Croatia, plastic bottles are exchanged for 50lipa (less than 8 cents), and are a way of acquiring money for many poor people.
[2] Factories from Yugoslavian times, which faced crisis in the 21st century, resulting with many people losing their jobs.
[3] A prominent conceptual artist and art critic born from Belgrade, Serbia.
Read more...
Marko Marković (1983)
Working in different media and focusing on performance arts, Marko Marković is exploring the political and social structures rather critically.
His points of artistic interest are predominantly marked by transformational processes between individuals and the society. His interests reflect the quotidian and he questions the relations between inferiority and superiority, as well as the positions of power within different geopolitical systems (he was active in the Occupy Wall Street movements).
He is recognized as a performance artist who questions the borders of his own endurance, and he is among the most radical artists in the Croatian scene. He deals with identity and the body as an instrument of expression and experiment, often including the audience and working with people from different social and professional backgrounds.
Marković organizes different culture/art programs such as DOPUST/Open performance days. In 2016, he curated the Vienna Actionist exhibition, cooperating with the MUMOK/Vienna Museum of Modern Art archive. In 2017, he worked with the Museum of Modern and Contemporary Art (Rijeka) on the Tomislav Gotovac retrospective exhibition "Kriza-Kuda idem ne pitajte" ("Crisis-Don't ask me where I am going").
2012/ 2014 New York, Matthew Barney Studio, production assistant (program curator for artists from the Studio)
Among many others, his exhibitions were held in: Anthology Film Archives, New York.
ISCP New York, The Kitchen New York. La Esmeralda Mexico City, Biennale de Mediterranean Thesaloniki, Art Rotterdam Kunstlerhouse Vienna, Galerie Michaela Stock, Moscow Biennale of Contemporary Art. LADA/ Live Art Development Agency London.
2016:  Architecture Biennial Venice, Croatian Pavilion – exhibition: "We need it – we do it"
2017: 57th Venice Biennial – performance program "Viva Arte Viva – Anima Mundi"