10. - 17. april 2009. in
Basement Halls of Diocletian's Palace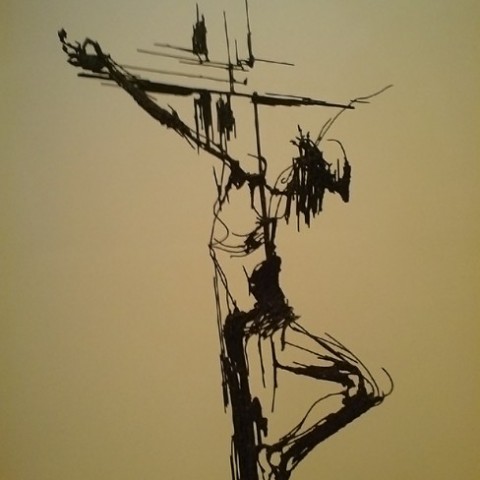 Duhovna je ideja postave ove izložbe prikazati s jedne strane Muku Isusovu, ali i simbolično, prvenstveno izborom prostora, podsjetiti na činjenicu da je Isusova muka žrtva koju je on podnio kako bi na svijetu zavladao mir i međusobna tolerancija i ljubav. Upravo izborom prostora, dakle podruma Dioklecijanovoga hrama, bazilike koju je on posvetio sebi kao Jupiteru, te činjenica da je, povijesno poznato, upravo Dioklecijan bio jedan od najžešćih progonitelja kršćana, pokušavamo uspostaviti "pomirenje" svih onih koji su nepravedno gonjeni, uništavani, mučeni i tlačeni zbog svojih uvjerenja i svoje vjere s onima koji ih jednoć goniše.
Budući da se radi o prikazu Isusove patnje i smrti, jedini mogući dan otvorenja takove izložbe u cijeloj godini je upravo Veliki Petak, dan podsjećanja na taj nesebičan i ljubavlju prožet Isusov čin, njegovu nesebičnu žrtvu za cjelokupno čovječanstvo.
Read more...
Mislav Katalinić
Mislav Katalinić was born 1979 in Split.
School of fine arts, orientation sculpturing designer, finished 1997. in Split.
Year 2003 graduate Sculpturing in Academy of fine arts in Split; in the class of professor Nikola Džaja.
2000-2003 had several collective exhibitions with semi-amateur association «Osvit» and several collective exhibitions with Academy of fine arts in Split.
Year 2003 in military port Lora in Split together with three colleagues from Academy (while they were graduate) made the sculpture of San Nicola (height 350 cm) in plaster. Bronze cast was made and installed in the centre of the port , by the sea.
Every year, for ten years , he creates the sculpture of «Krnje».