Condition: July 2006 (renewal)
Area: 95 m2
Maximum height: 4.20 m
Minimum height: 2.30 m (at the entrance)
Walls: White
Floors: Parquet and stone (entrance area)
Ceiling: White
Console glass panels: Yes
Lighting: neon and spotlights
Sanitary facilities: Yes
Head of exhibition activity: Vice Tomasović
Council for exhibition activities: Neli Ružić, Edvin Dragičević, Filip Rogošić, Dalibor Prančević and Toni HorvatićSalon Galić Gallery was open to exhibiting in 1924 with group exhibition in which works were shown of two painters Emanuel Vidović and Anđeo Uvodić. At that time between the two wars, Salon Galić Gallery possessed a true cult status as the main Art Salon, which had the function of gathering intellectual elite. Some of them are confirmed as giants of Croatian culture.
Among them were writers such as: Dinko Šimunović, Tin Ujević, Vladimir Nazor. Sculptors: Dujam Penić, Marin Studin, Branko Dešković. Painters: Antun Zupa, Milan Tolić, Sylvia Bonacci Ciko, Anđeo Uvodić, Vjekoslav Parać and others.Among the artists who have exhibited the same year are: Ljubo Babić, Vladimir Becić, Jozo Kljaković, Jerome Mise, Ivan Meštrović, Fran Kršinić, Zlatko Šulentić, Marin Studin and Vladimir Varlaj. Exhibition activity continued with exhibitions of Ignjat Job, Neven Šegvić, Marko Ostoja, Raul Goldoni, Svetozar Domic, Antun Maslo and many others.
Although the city of Split has long gone beyond the limits of a small coastal town and its small art salon, Salon Galic Gallery in Marmont street remains a general cultural location of the city of Split.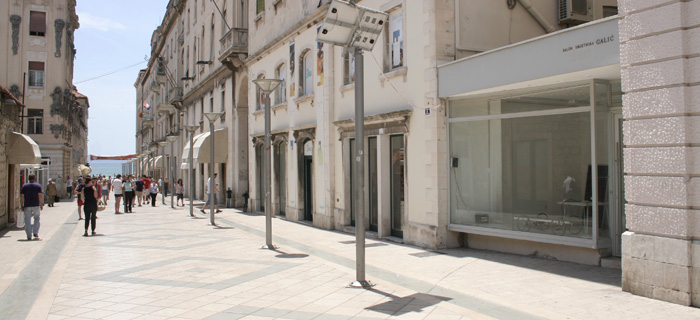 Marmontova 3, Split
+385 (21) 348 360
Mon – Fri: 9 – 21h
Sat: 9-12h