Basement halls of Diocletian palace as exhibition space are attractive on the visual and symbolic level and when setting up exhibitions in this area we must keep in mind that each activity within this complex raises some unavoidable questions:
Imposing space which is dominant in the visual field of visitor causes deliberate approach, so that exhibited works would not be "eaten" by such a large space. Basement halls in this respect are suitable for the establishment of dialogue, but they can not serve as a neutral backdrop gallery, because with such treatment every exhibition in Basement halls is doomed.
Impression of ambiance and historical burden of the pillars of the basement which bear for nearly 2000 years in real and symbolic way, easily draw the attention of visitors who wander these grandiose underground space and are being absorbed in their own thoughts. In this regard it is important to note that each recklessness can devastate this building on the one hand and on the other hand that projects which are implemented within the basement halls must respect the fact that this is not a dead antiquity, but the space still lives and emits very bright and that the author wanted to or not, must count on this penetration.
Electric lighting in the basement is mostly inadequate. It consists of reflectors that have been installed to highlight the environment, not as a gallery lighting.
In the basement halls there is very intense humidity, in walls and floors and works which are sensitive to moisture, should not be exposed there. Because of the poor condition of the electrical installation and leaking, it is particularly important to bear in mind the rainy seasons, when it comes to sophisticated equipment.
It should be emphasized that the strong audio is declared not suitable for this area, since the high sound vibrations can also devastate basement halls, although visually strong, but in fact soft architecture for which it is safe to say that it is a wonder how it has not collapsed because of suffered negligence for centuries.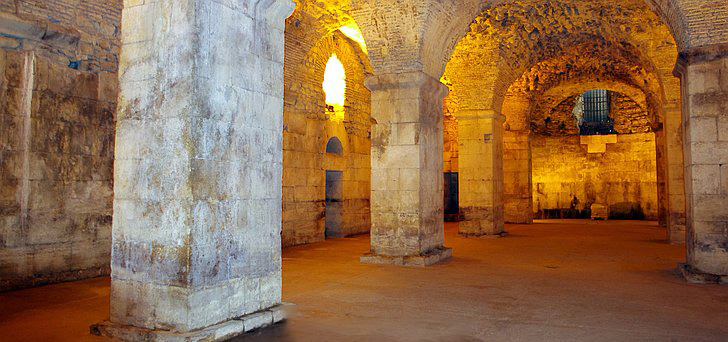 Download the draft space with measures in PDF format here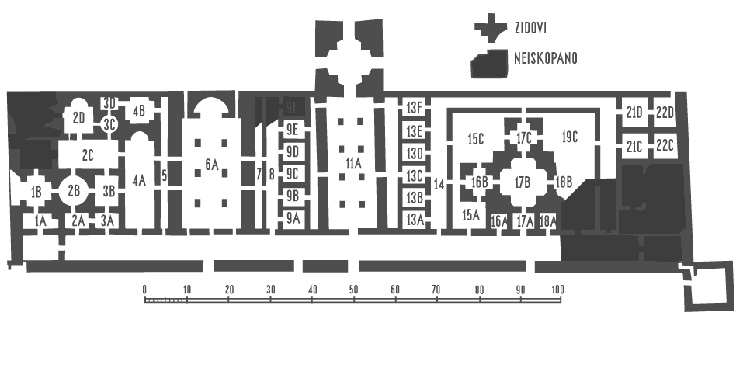 Papalićeva 1, Split
+385 (21) 360 171
Mon – Sun: 8:30 – 21h